---
"Children must be children" says Alessandra Chiavelli, founder of luxury kids fashion brand Il Gufo. Whilst the statement has been made since time immemorial, its meaning has somewhat been lost over time, especially in the world of fashion. It is a debate that is often prefaced with the controversial rise of mini -me kids' fashion. The belief that brands, not initially tailored towards children – take for example Balmain or Balenciaga – blur a what should be clear divide between dressing as a child versus an adult. Yet this divide is never crossed at Il Gufo, a brand that for over 60 years has put children at its centre.
Yet to understand Il Gufo in 2022 one must first understand how it began. In the early 1980's Miletti found herself living in a remote area of Italy, Asolo, with her three children and husband. Having given up a corporate job to look after her children she began spending her evenings making small creations; bibs and sheets in her greenhouse, using a Ping-Pong table to cut, sew and embroider. Her main objective was to create pieces of quality that did justice to the iconic Made In Italy label it bore.
The focus on elegant shapes, tailored detail and luxury fabrics made it popular amongst the Italian milieu leading her to the 1994 Pitti Immagine Bimbo fair (trade show) which placed the brand on an international pedestal. Yet her greenhouse continued to serve as her studio and her living room a showroom where she received customers and took orders, until they moved into a larger workshop in the late 90s. Such internal expansion led to the first flagship store in Turin and later boutiques throughout Europe, the United States and the Middle East.
Yet despite expansion, the founding principles of the brand have not been compromised. One of the focuses of Alessandra, daughter of Giovanna who now heads the company with her brother is their sustainability initiative, and one of the crucial reasons why Il Gufo was Kidswear Collectives (KWC) first brand partner. Founder of KWC Shoshana Kazab said "Il Gufo's founding principles of respecting the child's identity and respecting the natural world makes it a brand which we are thrilled to be working with!"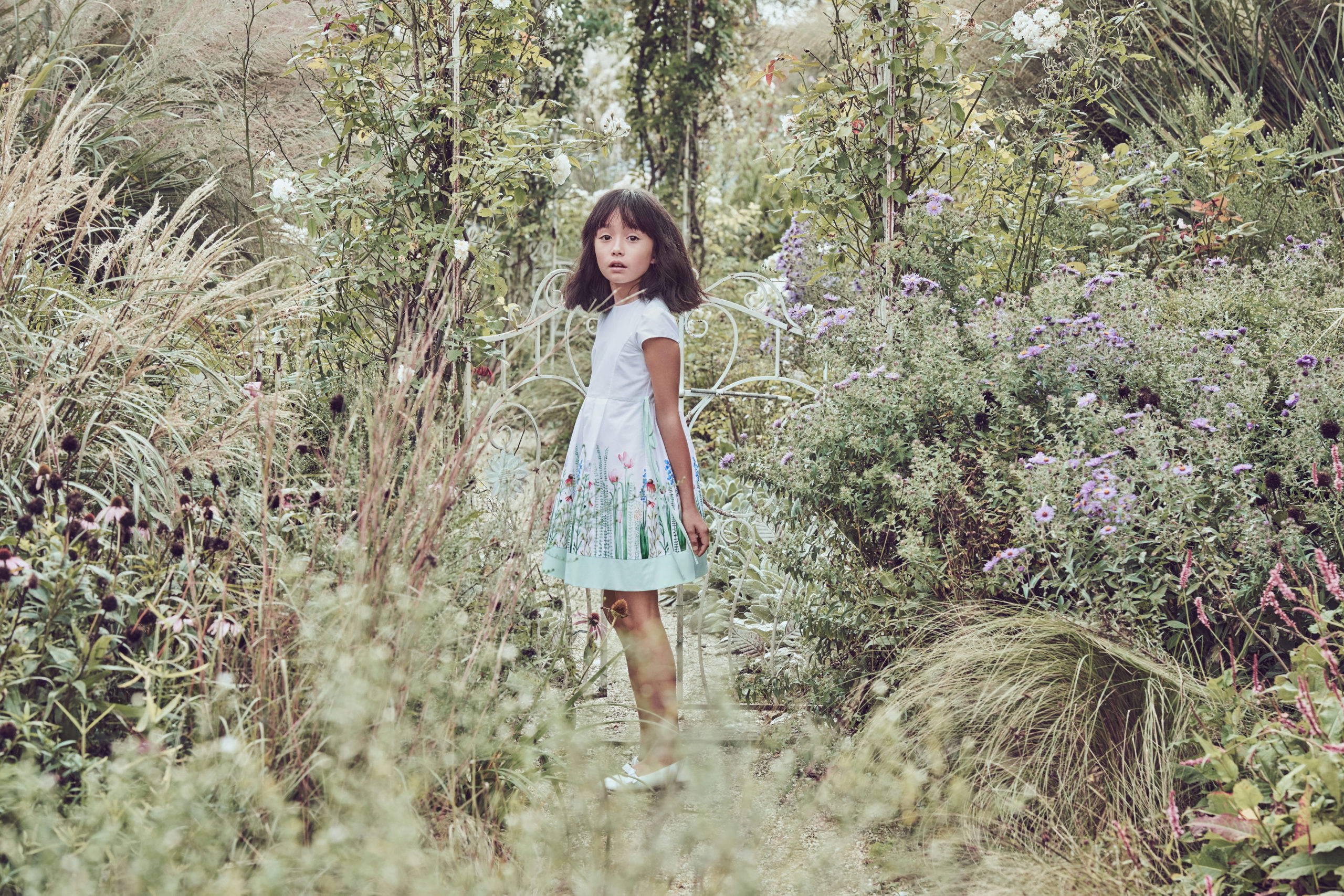 ---
IL Gufo's Sustainability Efforts
Each store is created with great attention to natural materials. Hornbeam and oak details permeate the décor, inspired by Nordic designs. The aim is to lighten up the space and create a welcoming, almost homely atmosphere. The London store windows open inwards, allowing the space - through completely natural materials, made without glue or synthetic substances and regulated from the moment of manufacture through to their completion - to express a philosophy to which both children and nature are central. There are also numerous hand-made creations in store, like the large tree specially designed for the Milan and Paris boutiques that have been reproduced for the interiors of all new franchised stores.
Packaging is made of 100% recyclable FSC paper, all the used plastic hangers are withdrawn and recycled to make new hangers and polybags to cover dresses are all made of recycled polyethylene.
Collections are often inspired by nature, take Spring/Summer 2020 focusing on a secret garden or the 2019 S/S collection that was built on the naval officer Jacques-Yves Cousteau quote that "Knowing your planet is a step towards protecting it." Such themes sit alongside scrupulous research into fabrics and production techniques.
Yet despite huge strides by Il Gufo to create a brand that respects the earth, they intend to keep pushing their sustainability initiative. In 2022 greater attention has been shifted to raw materials, making sure their origin is always controlled and choosing suppliers that provide certifications both for the origin of their products and for the respect of human labour. Therefore, most processes are certified and traced so that they are certain the finished product has an even greater intrinsic value. Alessandra also adds that Il Gufo wishes to "establish business relationships with companies that are particularly outstanding for their smart and sincere approach to sustainability. That is why we are so proud of the partnership with Kidswear Collective. It is our first step towards understanding pre-loved items and it perfectly reflects the brand philosophy: to create collections that can survive generations and can be handed down from mother to daughter to friends!"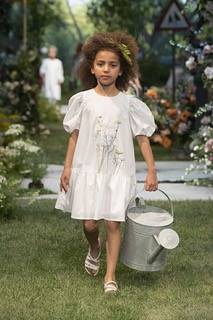 ---
Creating Collections for Generations
Creating collections for generations means that timeless pieces stand at the core of each and every collection, simply revisited in new and innovative ways. One of them is the teddy bear, applied mainly on baby rompers. They are designed by hand and made of tiny pieces of fabric that have to be assembled and ironed together to create the perfect shape.
Another iconic item is the bib, the collar that children used to wear back in the 80s and 90s instead of a shirt under a sweater to be chic and comfortable at the same time. They have had quite a comeback in the latest seasons, and they are still made using the most exquisite fabric such as Liberty Fabrics, as Giovanna used to do almost 40 years ago.
With a brand that is founded on a universal principle that children across the world have similar needs and habits - they play in the open air, go to school and celebrate pivotal moments in their growth that require specific outfits – combined with a deep belief that fashion does not have to cost the earth, they are only destined for further global success!